Cytokine arrays are capable of measuring the levels of many proteins simultaneously. Compared to single-target ELISA, immunoprecipitation, or protein blotting assays, cytokine array analysis offers greater efficiency, speed, and range of detection.
Creative Proteomics has developed a variety of cytokine arrays that enable the simultaneous detection and accurate quantification of multiple secreted proteins (cytokines, chemokines, growth factors, etc.) and biomarkers, providing a solution for the comprehensive study of secreted protein factors in biological models, diseases, and organismal systems.
Luminex Cytokine Panel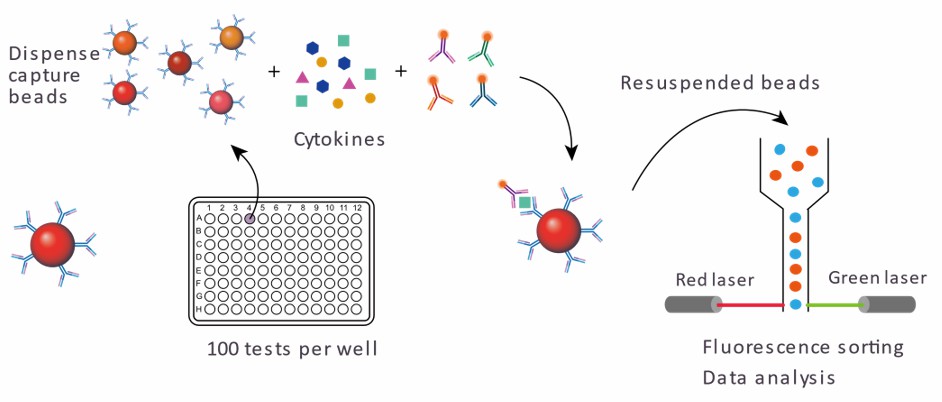 Creative Proteomics's cytokine microarray analysis based on Luminex xMAP technology enables the simultaneous detection and quantification of multiple metrics in a variety of complex samples.
The Luminex xMAP technology involves coupling highly specific capture monoclonal antibodies to different fluorescently labeled magnetic beads, mixing the different types of beads and suspending them in a 96-well microtiter plate. Biotin-labeled high-affinity paired secondary antibodies combined with SA-PE are added for signal amplification to achieve effective detection of multiple trace cytokines. The Luminex technology provides accurate and reproducible results for each metric, requiring only a small number of samples and at a lower cost, successfully achieving more data in a shorter time than other assays.
Species
Why choose Luminex cytokine array?
96-well plate design for batch detection of multiplexed factors for up to 80 samples
Dual antibody sandwich & fluorescence assay for effective detection of micro-indicators with lower limit, pg/mL
25-50 μL of liquid sample required for multiplex detection
Suitable for serum/plasma, culture supernatant, cell, tissue lysate and other biological samples
Rapid identification of Th1/Th2 specific immune response
Any combination of factors in each panel can be used to customize personalized arrays
The maximum amount of information in a single sample, allowing cross-analysis between analytes
Save time and money, cost-effective
Detectable multi-cytokine includes but not limited to the following types:
Cancer Cytokines Assay
Cytokine Storm Assays
Autoimmune Disease Cytokines Assay
Inflammation Cytokines Assay
Rheumatoid Arthritis Cytokines Assay
Atopic Dermatitis Cytokines Assay
Osteoporosis Cytokines Assay
Apoptosis Cytokines Assay
Diabetes Cytokines Assay
lmmunomodulatory Cytokines Assay
Hypertension Cytokines Assay
Systemic Lupus Erythematosus Cytokines Assay
Cardiovascular Disease Biomarker Assay
Why perform cytokine assay?
Cytokines are proteins or peptides secreted by activated immune cells and certain stromal cells that mediate and regulate immune and inflammatory responses and have a powerful regulatory effect on the immune system.
Cytokine assays are of great value in disease diagnosis, basic immune research and cytokine therapy monitoring. Both the concentration of cytokines in peripheral blood can be measured and the cytokine secretion by lymphocytes can be stimulated by in vitro culture to amplify the stimulatory effect of drugs on immune cells, thus predicting the potential risk that a drug may cause cytokine release syndrome, and it can also be used to determine the minimum expected level of biological effect and to select a reasonable safe starting dose.