Introduction
Cytokines are a class of highly active, multifunctional, soluble, small molecule proteins secreted by activated immune cells and certain stromal cells (e.g., bone marrow stromal cells). Serum and plasma samples are the most common biological samples used for cytokine testing. Serum is a clear, pale yellow liquid separated from the inside of blood (after centrifugation or resting) and does not contain fibrinogen and is suitable for clinical chemistry and clinical immunology tests. Plasma contains blood cells and their organic components as well as a variety of physiological substances and metabolites. Based on the Luminex platform, Creative Proteomics can provide you with cytokine and protein molecule assays for serum or plasma samples.
We can provide you with:
Ultra-low abundance cytokine and chemokine assays
Rapid quantification of multiple proteins simultaneously
Protein biomarker analysis in serum or plasma samples
Technology platform
We mainly provide the Luminex cytokine detection platform. Luminex uses fluorescently encoded microspheres with specific antibodies to different target molecules. The different microspheres can be combined freely to a certain extent so that up to 100 analytes can be tested multiple times simultaneously in a single experiment.
The Luminex cytokine assay platform has the following advantages:
Multiple detection: simultaneous detection of 100 biological targets
Short experiment time: 1-4 weeks
High sensitivity: the lower limit of accurate quantification is as low as 0.1 pg/mL
Save samples: only need a sample volume as low as 25 μL
Time saving: the experiment process only takes 4 hours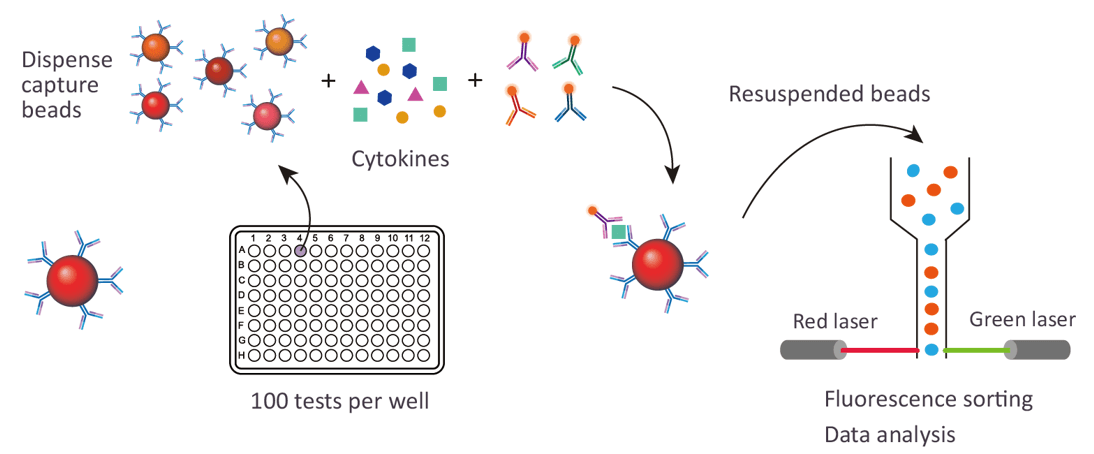 For your different needs, we can also provide the following detection methods:
Simoa
Meso scale discovery (MSD)
Enzyme-linked immunosorbent assay (ELISA)
Flow cytometry
Sample Requirements
Sample volume
25 μL of plasma or serum per sample
Sample preparation method
Plasma

1) Collect 2 mL of peripheral blood and quickly transfer to a heparin anticoagulation tube (green-tipped cap tube);
2) Mix gently by inverting up and down 180 degrees for 8-10 times to mix the blood and additives;
3) Immediately centrifuge at 4°C, ≤1300g (adjust slightly according to species) for 10min;
4) Transfer the plasma to an imported EP centrifuge tube using a pipette. After liquid hydrogen snap freezing, store in -80° C refrigerator.

Serum

1) Collect whole blood into vacuum blood collection tubes (without anticoagulant, red cap tubes), serum tubes should be mixed by gently inverting 180 degrees up and down for 5-6 times;
2) Centrifuge at 4°C for 30-45 min, 4 degrees, ≤1300g (adjusted slightly according to species) for 10 min;
3) Transfer the serum to imported EP centrifuge tubes with a pipette, snap-freeze in liquid nitrogen and store at -80°C in the refrigerator.
* Notes:
Hemolysis should be avoided during the sampling process.

Heparin is the recommended anticoagulant, EDTA is not recommended. EDTA may have an effect on subsequent mass spectrometry tests.

Repeated freezing and thawing of blood used for the separation of serum and plasma should be avoided.
Creative Proteomics can provide you with a one-stop solution for cytokine and protein detection and quantification. If you would like to learn more, please contact us. We look forward to working with you.