NGF signaling pathway
Based on Luminex technology platform, Creative Proteomics provides analysis services for key targets of NGF signaling pathway.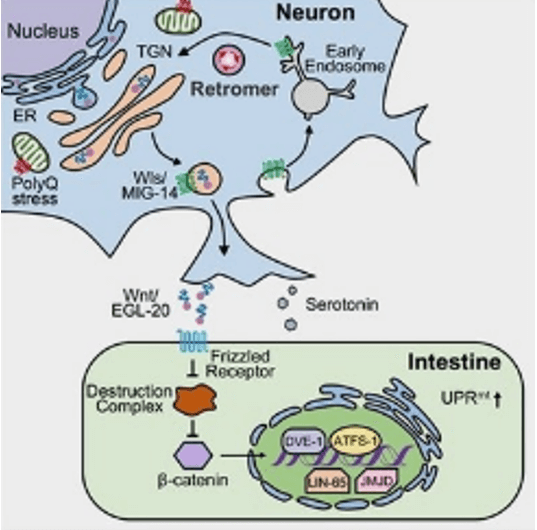 (Rao S S, et al., 2018)Nerve growth factor (NGF) is a member of the neurotrophic factor family and has a very important role in the survival, differentiation, growth, and repair and regeneration of neurons at different times. NGF has been detected not only in the nervous system, but also in other normal and tumor tissues of human, and the application of NGF in various aspects has been emphasized and confirmed.
Nerve growth factor has a robust synaptic trophic effect that regulates synaptic signal transmission, such as the expression of synaptic vesicle protein, the release of neurotransmitters, the expression of synaptic receptors and the change of synaptic plasticity. The function of NGF is inseparable from its receptor binding. According to the different binding ability of NGF surface glycoprotein and lectin, its receptor can be divided into high-affinity receptor tyrosine kinase A and low-affinity receptor p75. These two receptors interact with nerve growth factor respectively and regulate different signal pathways. The signal pathways mediated by the combination of TrkA and NGF mainly include: (1)MAPK pathway; (2)PLC-γ pathway; (3)PI3K/PKB pathway. The signal transduction pathways mediated by the combination of p75 and NGF mainly include: (1)NF-KB pathway; (2)JNK-p53-Bax apoptosis pathway; (3)ceramide pathway.
NGF and its receptors directly or indirectly participate in the pathogenesis of tumors and the mechanism of cancer pain. However, the role of NGF and its receptors in tumor development and metastasis still needs to be further studied. Therefore, interfering with the expression of this factor and its receptor or blocking its transmission pathway, as well as using it as a target to control the progression of related diseases and other biological behaviors are the focus of current research.
Our detectable targets:
| | | | | | |
| --- | --- | --- | --- | --- | --- |
| RTK | MAPK | TRAM | p38 | RIP1 | p38MAPK |
| PI3K | IRF3 | SLP76 | MEKK1 | PSGL1 | MEK3 |
| TYK2 | CREB | p50 | IRF9 | TRAF5 | PKR |
| STAT1 | Rac1 | MEK6 | GAS | IRS2 | mTOR |
| STAT2 | MYD88 | IRS1 | TRAF3 | MSK1 | ISRE |
| STAT3 | JNK | MHC-II | RIG-1 | TLR3 | Fas |
| TNFR | IRAK4 | TLR9 | NFκB | Tak1 | TRAF6 |
| ISGF3 | STAT5 | Rel | Mda-5 | TRIF | SH2 |
| MSK2 | Vav | NAP1 | icam1 | CD3 | |
| PI3K | TBK1 | TLR4 | TCR | IRF5 | |
Technology platform:
We provide Luminex technology for NGF signaling pathway analysis.
Luminex technology is a multifunctional liquid phase analysis platform, which is developed on the basis of high-speed digital signal processing technology, colored microspheres, applied fluidics and laser technology. The core is the use of fluorescent dyes for encoding. By adjusting the different ratios of different fluorescent dyes, more than 100 microspheres with different fluorescence spectra were obtained. The reactions are carried out on microspheres with different fluorescent codes, such as nucleic acid hybridization, antigen-antibody, enzyme-substrate, ligand-receptor binding reactions. Using laser detection technology, qualitative and quantitative analysis of microsphere encoding and reporting fluorescence.
In addition to providing customers with luminex multiplex assay, we can also provide enzyme-linked immunosorbent assay (ELISA), flow cytometry (FACS analysis) technology to meet other customer needs.
Advantages of NGF signaling pathway detection:
High throughput: It can analyze more than 100 target molecules in the same sample at the same time.
Low sample consumption: Due to the small size of the microspheres, samples as low as 1 puL can be detected, and 100 different target molecules can be detected simultaneously in the same reaction well, which greatly saves the amount of sample.
The operation is simple and quick: The liquid phase system is adopted, the reaction time is fast, and the detection of various cytokines can be completed within 2-3 hours.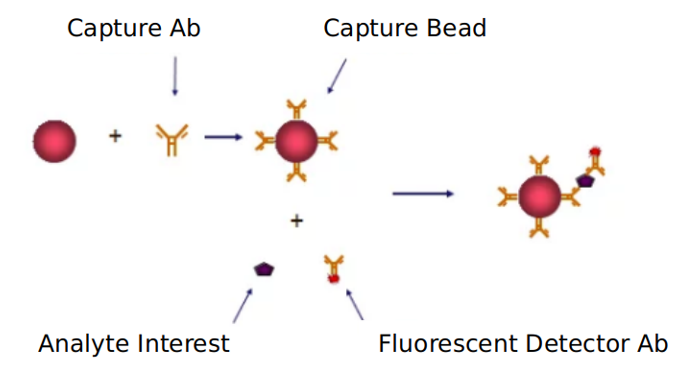 Application of our service:
Study the impact of each clinical virus on the NGF signaling pathway
Research on the regulatory mechanism of NGF signaling pathway in medicine
Creative Proteomics has developed a signaling pathway target detection platform. We can provide detection services not only for NGF signaling pathways, but also for other signaling pathways. If you want to detect other targets, please contact us in advance and we will customize the service for you according to your requirements. Looking forward to working with you.
References:
Yue XJ, Xu LB, et al. Over-expression of nerve growth fac-tor- β in human cholangiocarcinoma QBC939 cells promote tumor progression. PLoS One, 2017, 8(4): c62024.
Govoni S, Pascale A, et al. NGF and heart: Is there a role in heart discase. Pharmacol Res, 2019, 63(4): 266-277.
Chiaretti A, Falsini B, et al. Neuroprotective role of nerve growth factor in hypoxicischemic injury from brain to skin. Archives ltaliennes de Biologie, 2019, 149(2): 275-282.