Introduction
Saliva is a mixture of gingival sulcus fluid, mucosal exudate, and salivary glandular follicular hyperosmolar fluid, produced by the secretion of oral glands. Salivary glands are highly permeable and surrounded by enriched capillaries, allowing molecular exchange between blood and glandular follicles, allowing biomarkers from the blood circulation to penetrate into the glandular follicles and eventually be secreted into the saliva. Saliva is rich in DNA, RNA and protein information as well as rich in microorganisms and a variety of metabolites. Saliva collection is non-invasive, easy to collect and convenient to store. The saliva collection process is relatively safe and prevents the transmission of viruses. Studies have shown that the use of saliva samples can detect systemic diseases other than oral and salivary gland diseases, including diabetes, cardiovascular diseases, infectious diseases, neurodegenerative diseases, and tumors. Soluble factors such as cytokines, chemokines, and growth factors in saliva and gingival process fluid (GCF) have shown great potential as biomarkers for early detection and/or diagnosis of systemic diseases. The detection of cytokines or other proteins in saliva samples is important for finding molecular markers of disease and drug targets.
Based on Luminex's multiple cytokine assay technology, Creative Proteomics has built a saliva sample assay platform that can provide you with molecular analysis of cytokines and proteins in saliva or gingival fluid samples.
We can provide you with:
Ultra-low abundance cytokine and chemokine assays
Rapid quantification of multiple proteins simultaneously
Protein biomarker analysis in saliva samples
Technology platform
We mainly provide the Luminex cytokine detection platform. Luminex uses fluorescently encoded microspheres with specific antibodies to different target molecules. The different microspheres can be combined freely to a certain extent so that up to 100 analytes can be tested multiple times simultaneously in a single experiment.
The Luminex cytokine assay platform has the following advantages:
Multiple detection: simultaneous detection of 100 biological targets
Short experiment time: 1-4 weeks
High sensitivity: the lower limit of accurate quantification is as low as 0.1 pg/mL
Save samples: only need a sample volume as low as 25 μL
Time saving: the experiment process only takes 4 hours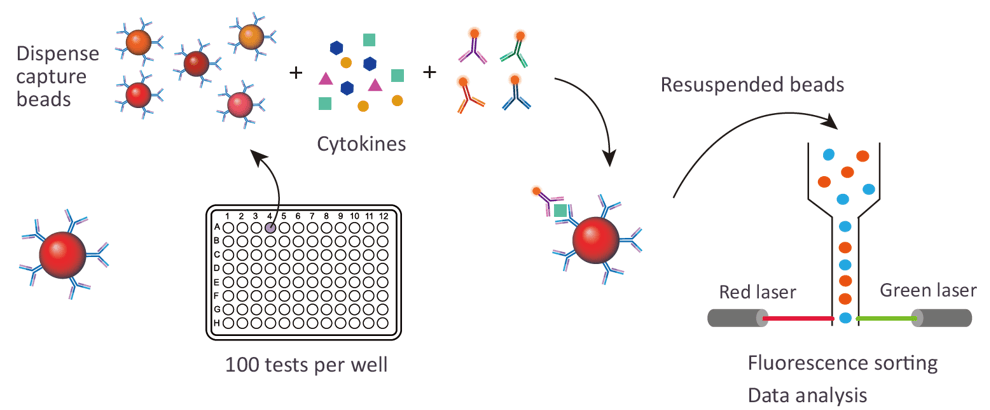 For your different needs, we can also provide the following detection methods:
Simoa
Meso scale discovery (MSD)
Enzyme-linked immunosorbent assay (ELISA)
Flow cytometry
Sample Requirements
Sample volume
25 μL of saliva per sample
Sample preparation method
Samples are collected in centrifuge tubes and frozen at -70 degrees for 1 hour.
After thawing the samples on ice, the samples are centrifuged at 2000×g for 10 minutes and the supernatant is removed for testing.
Creative Proteomics can provide you with a one-stop solution for cytokine and protein detection and quantification. If you would like to learn more, please contact us. We look forward to working with you.