Introduction
Peripheral Blood Mononuclear Cell (PBMC) is a mixed population of cells with a single nucleus in peripheral blood and is a rich source of immune cells. PBMC can be further purified to isolate individual cell types, consisting of lymphocytes (T cells, B cells, NK cells), monocytes, and granulocytes (neutrophils, basophils, eosinophils), with the highest percentage of lymphocytes followed by monocytes. PBMCs can be separated from blood by Ficoll-density gradient centrifugation.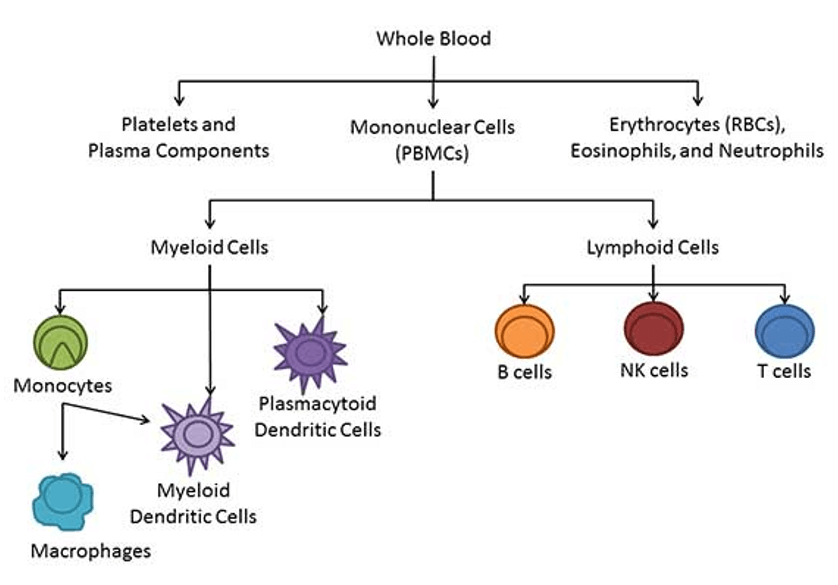 PBMC are commonly used in immunogenicity assays, cell marker studies, and basic cell therapy research. For example, in cancer research, PBMC samples with different markers of cells. Tumor targets can be verified directly or by specific antibodies, detection of cytokines produced after stimulation of PBMC, etc.
Based on Luminex multiple cytokine assay technology, Creative Proteomics has built a PBMC sample assay platform that can provide you with molecular analysis of cytokines and proteins in PBMC samples.
Cells: PBMC, CD3+ T cells, CD4+ T cells, CD8+ T cells, NK cells, Treg cells, dendritic cells, macrophages, etc.
Application of the assay: cytokine release (single or multiple factors simultaneously, ELISA/Luminex), cell surface marker protein expression or immunophenotyping, etc.
Species: human, monkey, mouse, canine, etc.
Technology platform of PBMC cytokine assay
We mainly provide the Luminex cytokine detection platform. Luminex uses fluorescently encoded microspheres with specific antibodies to different target molecules. The different microspheres can be combined freely to a certain extent so that up to 100 analytes can be tested multiple times simultaneously in a single experiment.
The Luminex cytokine assay platform has the following advantages:
Multiple detection: simultaneous detection of 100 biological targets
Short experiment time: 2-6 weeks
High sensitivity: the lower limit of accurate quantification is as low as 0.1 pg/mL
Save samples: only need a sample volume as low as 25 μL
Time saving: the experiment process only takes 4 hours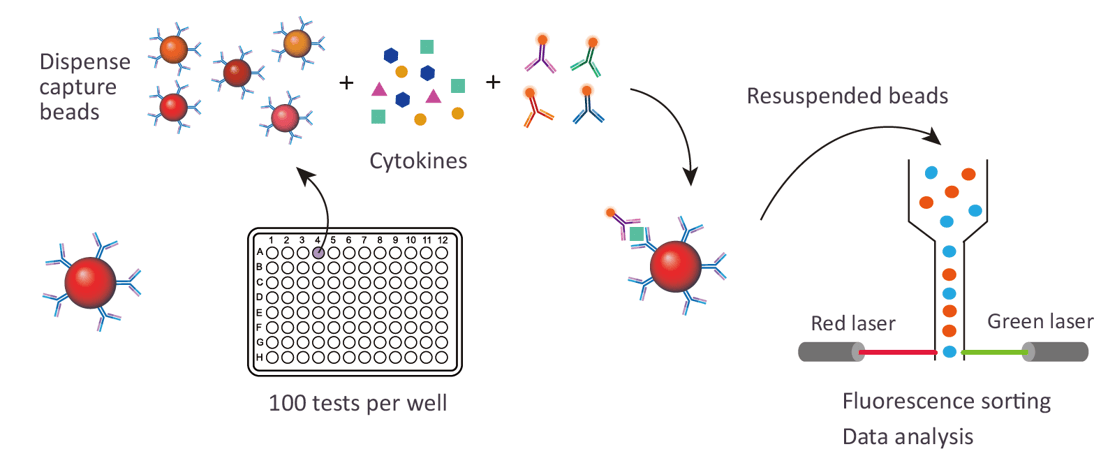 For your different needs, we can also provide the following detection methods:
Simoa
Meso scale discovery (MSD)
Enzyme-linked immunosorbent assay (ELISA)
Flow cytometry
Sample storage recommendations
(1) Cryopreserved cells: frozen PBMC are stored in liquid nitrogen tanks (-150℃~-190℃).
(2) Fresh cells: Store freshly isolated PBMC at 2-8°C.
Creative Proteomics can provide you with a one-stop solution for cytokine and protein detection and quantification. If you would like to learn more, please contact us. We look forward to working with you.