Introduction
Meso Scale Discovery (MSD) is a third-generation immunoassay technique with an extremely wide detection range from sub-picograms to tens of thousands of picograms and a sensitivity of up to 0.05 pg/ml, enabling effective detection of differences between experimental groups. MSD technology is widely used in the analysis of biomarker and immunogenicity assays. Creative Proteomics has established a platform for the detection of cytokines and other proteins based on MSD technology, which allows for the quantitative analysis of various cytokines, chemokines and other proteins, as well as multi-component assays for up to 10 fractions.
Principle of MSD Analysis
Electrochemiluminescence is a specific chemiluminescence reaction triggered by electrochemistry on the electrode surface. The MSD electrochemiluminescence detection technique uses SULFO-TAGTM markers, which are electrochemically excited to emit intense light when the electrode surfaces of MULTI-ARRAY and MULTI-SPORT microplates are energized.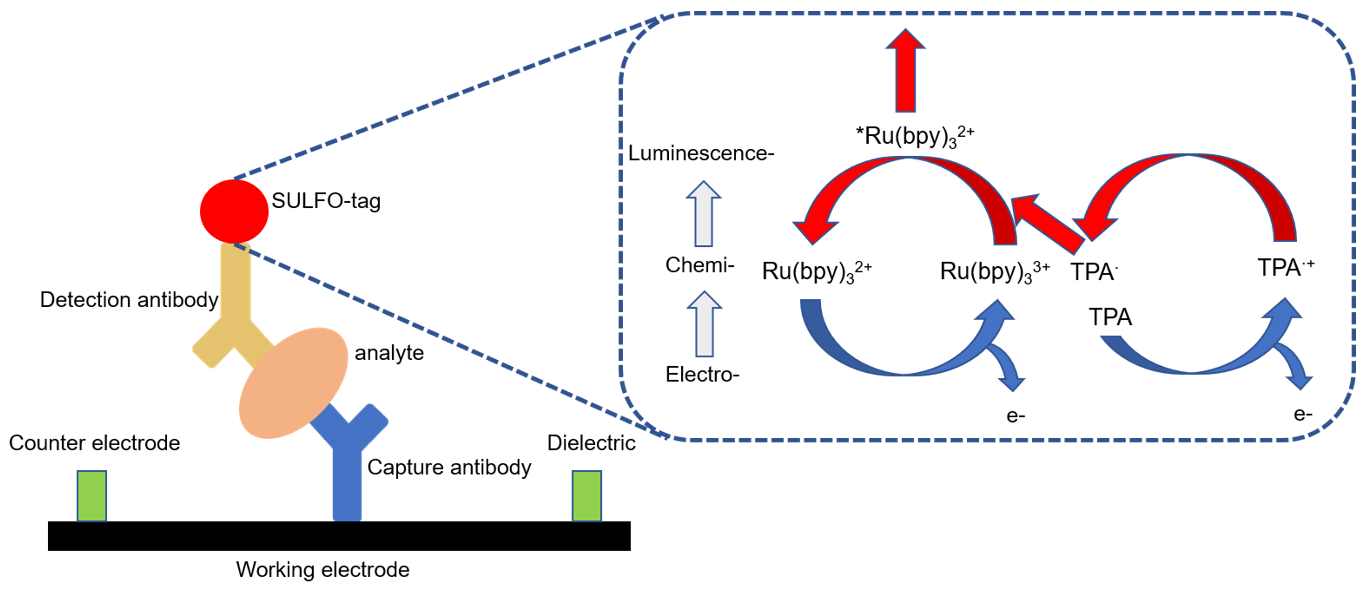 Advantages of MSD Analysis Technology
High sensitivity and wide linear range: the minimum detection concentration is 0.05~1pg/ml, and the linear range is 6 log orders of magnitude.
High sample compatibility and low matrix effect: Due to the unique electrochemiluminescence principle, many non-specific signals can be excluded and are less affected by the nature of the sample (e.g., viscous samples, suspended particulate samples, etc.). High compatibility with all types of biological samples, also with plasma samples with different anticoagulants.
Saves sample volume and enables multiplexed assays: 25 µL sample per well, 10 indicators simultaneously. Provides more data for the study of rare samples.
High plate reading speed: all single and multi-factor plates can be read in 70s.
The signal is stable and not affected by the color development sequence: MSD is based on electrochemiluminescence technology and the signal molecule SULFO-TAG needs to be electrically excited to produce a signal. Therefore, the entire experiment does not need to be protected from light and is not affected by differences in the skill level of the experiment operator. In addition, after the experiment is completed and all liquids are added, no signal is excited. The signal is only generated when the instrument is fed and electrically excited by the electrodes. The duration of excitation and signal acquisition is uniform for each well, and the data stability is extremely high.
High uniformity and repeatability: intra-plate CV < 6-8%, inter-plate < 10%, inter-batch < 15%.
High loading capacity graphite electrode, diversified experimental protocols, more economical coating amount: The graphite electrode plate used in MSD platform is polymeric material with 3D structure on the surface and inside, which can increase the payload to 10-100 times of the traditional ELISA plate. Proteins, peptides, polysaccharides, nucleic acids, viral particles, cell membranes, live cells, etc. can be immobilized on the bottom of the plate to achieve different experimental protocols.
Sample Requirements
Samples from humans, mice, rats, primates, pigs, horses, dogs, cats and other species.
Samples available: serum, plasma, culture supernatant, cell/tissue lysate, cerebrospinal fluid, urine, synovial fluid, saliva, sputum, fecal extracts, eye room water, various types of irrigation fluid, and basically all biological samples.
Creative Proteomics can provide you with a one-stop solution for cytokines, chemokines and other proteins detection and quantification through MSD technology. If you would like to use other analytical techniques or inquire about our services, please contact us and we look forward to working with you.